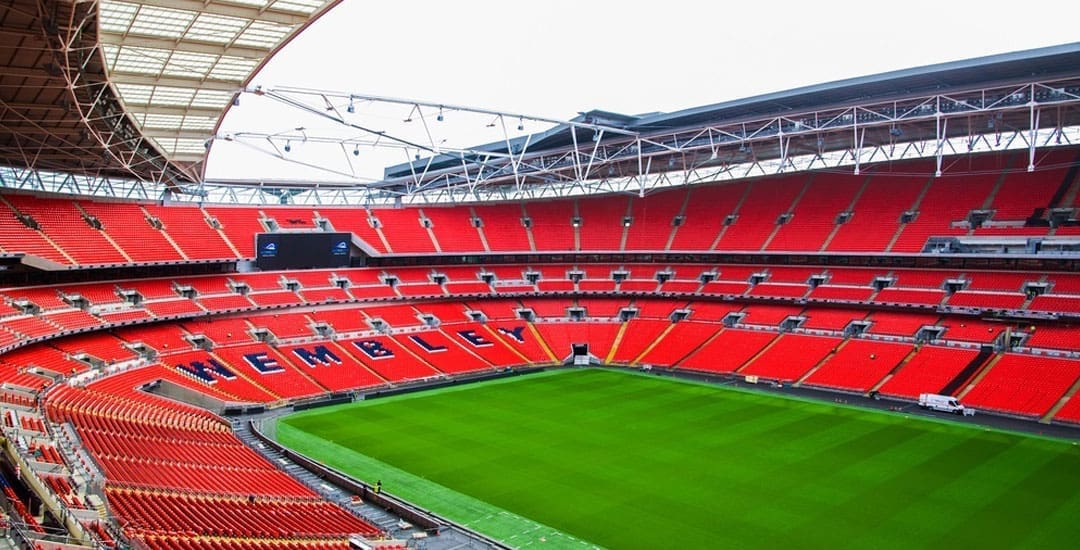 Wembley football stadium is internationally known as the home for hosting major football matches including home matches of the England national football team, and the FA Cup Final and more recently, pop concerts.  The original building had become outdated and was replaced in 2007 by a vast 90,000 seater stadium unveiled at a cost of £750 million.
The architects, Populous and Foster and Partners, incorporated many interesting ideas into the design including the creation of the single largest roof structure in the world.
The provision of water was an important factor in the stadium design as demand is variable and very changeable due to the requirements of the building's function and varied events.
For instance water has to supply all of the stadiums toilets and urinals (2,614 toilets plus rank upon rank of urinals all-round the stadium) and in particular cover periods of 'half time' (15 minutes) in football matches when demand for water soars and is met by three vast tanks each with a capacity of 740,000 litres.
This stadium's immense water flow had to be controlled by a much more sophisticated product than a traditional ballcock.  The project specifiers chose the Aylesbury KP Type Valve system for this purpose.
Developed and manufactured by Keraflo, the KP system is specifically designed for use with large tanks with a requirement for high outflow rates. It comprises an in-line control valve working with an Aylesbury KB Valve as a pilot.
In the Wembley tanks, the inflow valve is of a four inch diameter offering very fast flow rates but the KP range actually goes up to an even more massive eight inch diameter if required.
The pilot valve offers fully variable delayed action opening and closing water level controls and a straight on/off function.
The high flow float valve can be set to maximise the amount of stored water at periods of high demand, it eliminates water hammer and dribble and is maintenance free.
When the stadium does not have matches or concerts the demand for water is greatly reduced so the KP Valve can also be set with a large delayed action to reduce the capacity of the tank and ensure a good turnover of water. This helps keep temperatures lower and reduces the risk of Legionella and other water borne diseases associated with storing too much water.